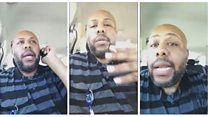 Police in Ohio are searching for a man who fatally shot a "random" victim and posted the footage on Facebook.
The suspect, Steve Stephens, later said in a separate video post that he had killed 13 people and was looking to kill more.
Cleveland police chief Calvin Williams confirmed one killing but said they did not know of any other victims.
Mr Williams said that "multiple forces" were looking for Mr Stephens, who "needs to turn himself in".
The victim has been identified by Cleveland police as 74-year-old Robert Godwin.
The father of nine was shot and killed in a residential area of the city while walking home from Easter dinner, according to WOIO-TV.
"There is no need for any further bloodshed in this incident tonight," police chief Calvin Williams said at a news conference on Sunday.
"We need to bring this to a conclusion today," he said, adding: "We need to get Steve from the streets."
In the graphic video the suspect approaches Mr Godwin and asks him to say the name of a woman believed to be Mr Stephen's former girlfriend, before shooting the elderly man in the head.
The woman, Joy Lane, confirmed to CBS News that they had been in a "relationship for several years".
"I am sorry that all of this has happened. My heart & prayers goes out to the family members of the victim(s). Steve really is a nice guy… he is generous with everyone he knows.
"He was kind and loving to me and my children," she wrote in a text message.
Maggie Green, the suspect's mother, told CNN that he was "mad with his girlfriend. That's why he is shooting people and he won't stop until his mother or girlfriend tell him to stop."
Mr Williams said that police had put out alerts to local authorities in Ohio, New York, Indiana, Michigan, and Pennsylvania over the "senseless" incident, and urged people not to approach the suspect, who he said was likely to remain armed and dangerous.
The Cleveland police department issued a photo of Mr Stephens, 37, on its website, describing him as a 6ft 1in (1.9m) tall black male of medium complexion.
They are also looking inside vacant homes in the city's East Side neighbourhood for other potential victims, according to Cleveland.com.
He is thought to be driving a white or cream-coloured SUV (sports utility vehicle).
Mr Williams said that the victim appeared to have been selected at random in what he described as a "senseless" murder.
He added that Mr Stephens "clearly has a problem" and urged him to come forward in order to "receive the help that he needs".
The Federal Bureau of Investigation (FBI) is collaborating with local police as it investigates the incident.
The mayor of Cleveland, Frank Jackson, said that he wanted Mr Stephens to know that "he will eventually be caught".
Mr Stephens is employed by Beech Brook, a behavioural health agency that works primarily with children and families, according to a company spokesman.
A fundraising page set up to help the family of Mr Godwin received more than half of its target of $20,000 (£16,000) within hours of publication.
Facebook said in a statement on Sunday that it co-operates fully with the authorities in incidents where there are "direct threats to physical safety".
Responding to the reports involving Mr Stephens, the company said that it was "a horrific crime", adding that it "does not allow this kind of content" on its site.
It is not the first time that a fatal shooting has been posted or streamed on Facebook. Last June, a man was shot dead while live-streaming a video of himself on the streets of Chicago. In March, an unidentified man was shot 16 times while broadcasting live.
Facebook's live-streaming feature, which was launched in 2010, allows anyone to broadcast online to its 1.2 billion users in real time.
Sign-up to get news from the BBC in your inbox, each weekday morning
Cleveland Ohio Facebook killer hunted by police