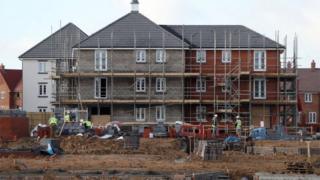 Labour-led councils build more homes than Conservative-led councils, the shadow housing secretary John Healey has said, as he promised to take "big steps" to deal with the housing crisis.
Mr Healey said a Labour government would build 100,000 affordable council and housing association homes a year to rent and buy.
However, he said voters would have to wait for the manifesto to see the plan.
In a White Paper, the Tories had vowed to build more affordable houses.
Labour councils have built on average 2,577 new homes between 2010 and this year, compared with 1,679 in Tory-led areas, according to a Labour-commissioned study of House of Commons library analysis.
It showed Liberal Democrat councils performing slightly worse than the Tories, building on average 1,660 new homes.
'Lost confidence'
Mr Healey told BBC Radio Four's Today programme that Labour councils in power were helping people to get that first foot on the property ladder, building super-efficient homes in Exeter and "genuinely affordable" homes in Islington, north London.
Asked whether Labour's approach to housebuilding was through councils, Mr Healey said: "You have to have councils building and commissioning new homes as part of a much bigger effort from housing associations, private housebuilders and councils."
Later, Mr Healey will visit Harlow, in Essex, alongside party leader Jeremy Corbyn, who is expected to repeat his pledge to build a million homes over five years – half of which would be council houses.
Mr Healey, a housing minister in Gordon Brown's government, said that decades of missed housing targets was a "test that all us as politicians have to meet".
"It's no good announcing big figures and targets. People have lost confidence in that.
"We have got to show not just what we want to do, but how we will do it and how we will fund it."
In February, a government White Paper set out plans to build more affordable houses and help people buy and rent.
The housing strategy for England included giving councils powers to pressurise developers to start building on land they own.
Ministers also pledged to make renting more "family friendly" with longer tenancies offered.
---
What do you want to know about the general election?
Send us your questions in the form below:
General election 2017: Labour councils 'build more homes'}