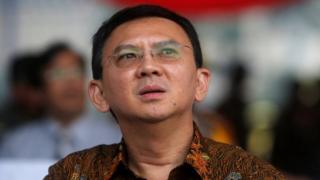 Voters in the Indonesian capital Jakarta are electing a governor after a campaign which has heightened religious and racial tensions.
Opinion polls suggest incumbent Basuki Tjahaja Purnama, a Christian, is running neck-and-neck with Anies Rasyid Baswedan, a Muslim.
Mr Purnama won the first round in February with 43% of the vote, while Mr Baswedan had 40%.
Mr Purnama is currently on trial on blasphemy charges.
He is accused of mocking a verse in the Koran.
The verse had been used by his opponents in the world's most-populous Muslim country to argue that Muslims should not vote for a non-Muslim leader.
Mr Purnama, or "Ahok" denies blasphemy, saying his comments were aimed at politicians "incorrectly" using the Koran against him.
If convicted, he faces a maximum five-year jail sentence, though could still govern while appeals are heard.
During the campaign, hundreds of thousands of people took part in protest rallies against Mr Purnama.
A coalition of hardline Islamic groups that supports Mr Basedan says it is deploying at least 100 monitors at each polling station across the capital.
Police have warned that any physical or psychological intimidation is illegal, while President Joko Widodo has called for calm.
The Jakarta Post has described the campaign as "the dirtiest, most polarising and most divisive the nation has ever seen".
This election is being seen as a choice between the secular policies Indonesia has practised since independence and a hardline political Islam that has strengthened in recent years, the BBC's Rebecca Henschke in Jakarta reports.
Mr Purnama is the first Christian and minority ethnic Chinese leader of Jakarta in over 50 years.
He stepped into the role from the deputy post without election in 2014, when his predecessor, Mr Widodo, became president.
About 85% of Indonesia's population are Muslim, but the country officially respects six religions.
Jakarta election: Tense run-off expected for governor post}