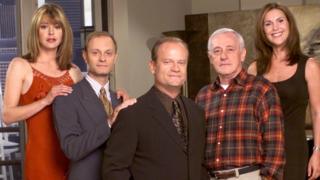 The British-born actor John Mahoney, best known for his role as Martin Crane in the US sitcom Frasier, has died aged 77, his manager says.
Mahoney died on Sunday while in hospice care in Chicago, TMZ reports.
Mahoney played the unpretentious, blunt father of Frasier and Niles Crane in the hit comedy, who were portrayed by Kelsey Grammer and David Hyde Pierce.
Frasier ran for 11 seasons from 1993-2004 and Mahoney won a SAG award in 2000 in for the role.
Mahoney was also nominated for two Emmys and two Golden Globes.
Born in Blackpool, he moved to the US as a young man and started out in theatre, winning a Tony award in 1986, before turning to television.
John Mahoney: British-born Frasier actor dies aged 77