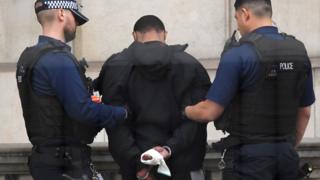 A man arrested by armed police near the Houses of Parliament on suspicion of terrorism offences is being questioned by detectives.
The 27-year-old was detained on Thursday afternoon as part of an intelligence-led operation.
The Metropolitan Police said knives were recovered and he was held over the possession of an offensive weapon and preparing for acts of terrorism.
The suspect is in custody in a south London police station.
Police said he was arrested in Parliament Street, at the junction with Parliament Square "following a stop and search as part of an ongoing operation".
A statement added: "The man was arrested on suspicion of possession of an offensive weapon and on suspicion of the commission, preparation and instigation of acts of terrorism. Knives have been recovered from him.
"Detectives from the counter-terrorism command are continuing their investigation, and as a result of this arrest there is no immediate known threat."
A witness described seeing two knives on the ground, one of which he described as a large bread knife.
It is thought the man lives in London and holds a British passport, but was born outside the UK. Addresses linked to him are being searched.
Analysis
By BBC security correspondent Frank Gardner
This, on the face of it, appears to have been a successful intelligence-led operation by the Metropolitan Police and MI5, the security service.
The suspect arrested had been under surveillance for some time.
It's not known what his exact intentions were. But the fact that he was arrested with two knives, close to Parliament and the centre of government, has contributed to this case being investigated by SO15, the Met Police's counter-terrorism command.
At this stage it is not thought that any other country's law enforcement agency is involved.
The area around Whitehall has been on increased alert since 22 March when Khalid Masood killed five people, including a police officer, in a terrorist attack.
In addition to visible armed officers, a number of armed police officers regularly patrol the streets of the capital with mobile armouries, ready to respond to an attack.
---
Man questioned after Westminster terror arrest}