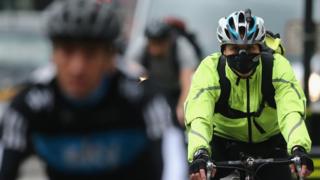 The UK government has lost a court bid to delay publication of its air pollution strategy, and must publish before the June election.
Courts had given the government until Monday 24 April to set out draft guidelines to tackle illegal levels of nitrogen dioxide (NO2) pollution.
But late last week, minsters lodged an application to delay their release until after the general election.
They argued that it fell foul of election "purdah" rules.
These limit government announcements with political implications during the election period.
Government lawyers had told Mr Justice Garnham that publication would drop a "controversial bomb" into the mix of local and national elections.
The High Court ordered the plans to be published on 9 May, immediately after the local elections.
Ministers lose bid to delay air pollution plan}