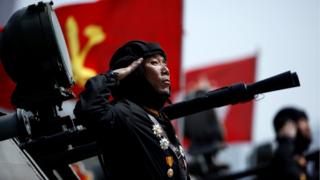 North Korea has attempted to launch a missile on its east coast which is believed to have failed, South Korea's military says.
It comes a day after the state warned the US that it was "ready to hit back with nuclear attacks" amid mounting tension in the region.
North Korea has already conducted five nuclear tests and a series of missile launches.
It is not yet clear what type of missile was tested on Sunday.
"North Korea attempted to test an unidentified type of missile from [its eastern port of] Sinpo," the ministry said, adding that the suspected launch on Sunday had "failed".
The ministry said that it was investigating for further details.
The US Pacific Command later confirmed the failed test.
"The missile blew up almost immediately," said US Navy Commander Dave Benham, quoted by Reuters news agency.
On Saturday, North Korea marked the 105th anniversary of the birth of its founding president, Kim Il-sung, with a huge military parade in Pyongyang amid speculation that current leader Kim Jong-un could order a new nuclear test.
The event, which appeared to include new intercontinental and submarine-launched ballistic missiles, was a deliberate show of strength.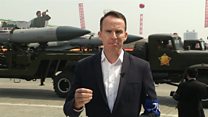 Tension continues to rise in the Korean Peninsula with a US aircraft carrier group steaming towards the region.
US Vice-President Mike Pence is flying to the South Korean capital, Seoul, where he is expected to discuss the best way to deal with North Korea's missile and nuclear programmes.
On a long-planned 10-day trip to Asia, his first official visit to the region, Mr Pence will reaffirm the US commitment to stand by its regional allies, officials say.
It comes as Washington steps up the pressure on the isolated North, with President Donald Trump saying that the US is ready to act alone to deal with the nuclear threat.
At the parade on Saturday, North Korean military official Choe Ryong-hae, who is believed to be the country's second most powerful official, said that his country was "prepared to respond to an all-out war with an all-out war".
"We are ready to hit back with nuclear attacks of our own style against any nuclear attacks," he said.
N Korea missile launch fails, says South Korea}