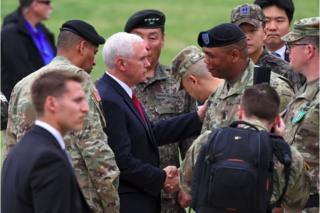 The US vice-president has arrived at the gateway to the demilitarised zone (DMZ), the area diving the two Koreas.
Mike Pence, who is set to meet the acting president of South Korea later, will visit four nations on his 10-day Asia tour.
At the weekend, North Korea's latest missile test failed, exploding shortly after take off.
Tensions between North Korea and the US have escalated in recent weeks, with heated rhetoric from both sides.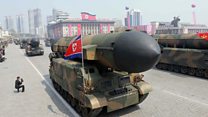 Mr Pence took a helicopter to Camp Bonifas, a United Nations compound near the DMZ.
He is expected to visit the truce village of Panmunjom, where the Korean War armistice was signed, which is located within the DMZ.
North Korea held a massive military parade at the weekend, and fired a missile early on Sunday. The US has since said they are working on a "range of options" with China on North Korea.
Pence visits Korean demilitarised zone