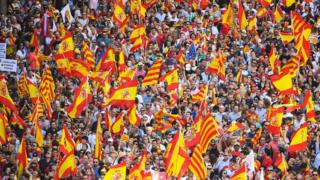 Catalan leader Carles Puigdemont is facing growing pressure to drop plans to break from Spain ahead of a key address to the regional parliament.
There is speculation he may announce a unilateral declaration of independence following a disputed referendum.
Armed police have been deployed outside Catalonia's parliament building ahead of the speech.
The mayor of Barcelona has urged Mr Puigdemont and Spanish PM Mariano Rajoy to "de-escalate" the crisis.
From the early hours of Tuesday morning the Catalan police force, the Mossos d'Esquadra, closed the Ciutadella Park in Barcelona and positioned several police vans near the entrances and alongside parliament.
Authorities said that the measures were put in place "for safety reasons" following mass demonstrations on Sunday against plans by Catalonia's separatist government to secede from Spain.
The Catalan National Assembly (ANC), a non-party grassroots movement, earlier posted a tweet urging people to "stand up" and "defend" the vote for independence.
Mr Puigdemont's address comes after a vote was held on 1 October which Catalan officials say resulted in almost 90% of voters backing independence. Turnout was put at 43%.
The vote was deemed illegal by Madrid and suspended by Spain's Constitutional Court. "No" voters largely boycotted the ballot and there were several reports of irregularities. National police were involved in violent scenes as they manhandled voters.
There is intense speculation as to what Mr Puigdemont may say when he addresses parliament.
He could ask the parliament to declare independence on the basis of the referendum law it passed last month, which in turn could lead the Spanish government to suspend devolution, acting under Article 155 of the constitution.
Ahead of Mr Puigdemont's speech to the Catalan parliament on Tuesday evening, Barcelona Mayor Ada Colau urged him not to declare independence, and also called on Mr Rajoy to rule out direct control from Madrid.
"I ask them not to take any decision that might blow up the possibility of any space for dialogue and mediation," said Ms Colau.
"That is the most courageous act they could do now."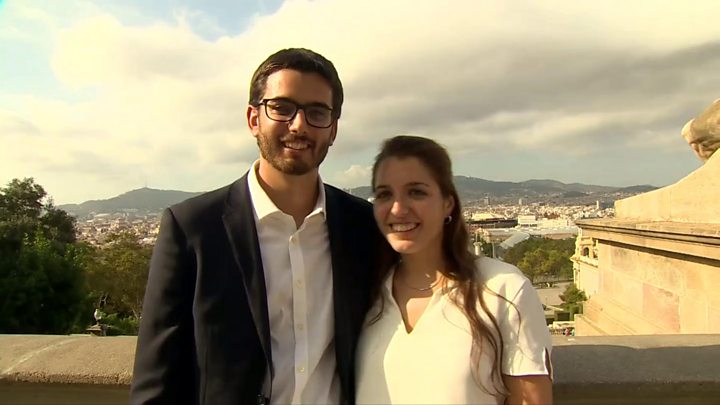 Mr Rajoy, who is due to appear in Spain's parliament on Wednesday, has said that any declaration of independence by Catalonia "will lead to nothing".
The leader of Spain's Socialist opposition party, Pedro Sánchez – who is also opposed to independence – weighed into the row.
He told reporters in Barcelona that he would back action from the Madrid government "in the face of any attempt to break social harmony" if independence was declared unilaterally.
The Spanish government has threatened to suspend the autonomy of the north-eastern region.
Economic pressure is also increasing on Catalan separatist leaders with more major companies moving head offices away from the region.
Infrastructure firm Abertis, property group Inmobiliaria Colonial and telecoms company Cellnex all announced plans to relocate to Madrid.
Analysis: Will Puigdemont make good his threat?
Tom Burridge, BBC News, Barcelona
Never before has the world watched Catalonia's regional parliament so closely. This evening, with probably large numbers of police and protesters outside, the leader of the devolved government is due to address Catalan MPs. Carles Puigdemont plans to present his government's results of the disputed referendum, which Madrid declared illegal.
Since then, Mr Puigdemont has said on several occasions that he will declare independence, despite fierce opposition across Spain and criticism from European governments.
Now, will he make good his threat? Or will he announce a more nuanced strategy, hoping still for a proper, recognised referendum one day? Under pressure to act, the Spanish government has made stark warnings, too. If the order comes, thousands of Spanish national police, here in Barcelona, could intervene.
Publishing company Grupo Planeta said it would also move from Barcelona to Madrid if there was a declaration of independence.
Major lenders Caixabank and Sabadell have already announced they are moving offices out of the region.
Catalonia is one of Spain's wealthiest regions, accounting for a quarter of the country's exports.
A spokesman for German Chancellor Angela Merkel said on Monday that she had "affirmed her backing for the unity of Spain" in a phone call with Mr Rajoy.
French government minister Nathalie Loiseau said that if there was a declaration of independence "it would not be recognised".
The European Union has also made it clear that should Catalonia split from Spain, the region would cease to be part of the EU.
Catalonia's parliament had been due to meet on Monday with the expectation that it would endorse the declaration of independence.
However, the session was blocked by the Spanish Constitutional Court, which had also sought to stop the referendum itself.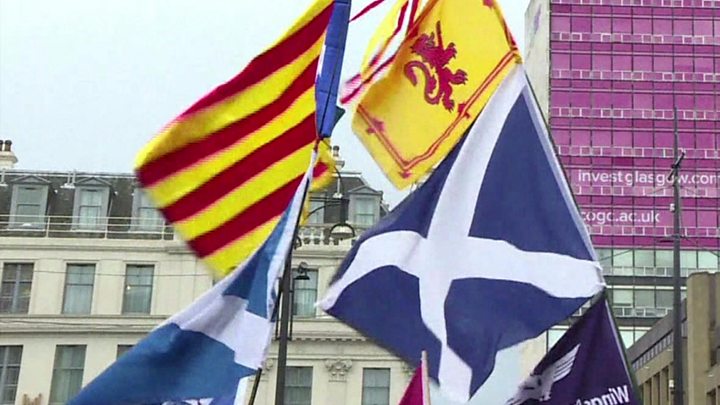 The BBC understands that whatever Mr Puigdemont says on Tuesday his statement will trigger the 48-hour period within which MPs need to declare independence, according to Catalan law.
But an MP from Mr Puigdemont's party told the BBC on Sunday that the current plan was to stop short of such a unilateral declaration and make a "symbolic statement" instead.
There have been huge rallies in Barcelona, both for and against secession. At least 350,000 people joined a pro-unity protest on Sunday.
Spain Catalan crisis: Puigdemont under pressure before speech