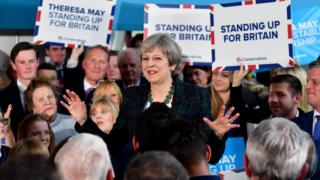 Theresa May is to make her first campaign visit to Scotland ahead of June's snap general election.
The PM is expected to ask Scots to vote for her to "strengthen the Union", the economy and her hand in Brexit talks.
In London, Labour's Jeremy Corbyn will talk to young people, while the Lib Dem's Tim Farron says he wants to become the leader of the UK opposition.
In Glasgow, Nicola Sturgeon will say the SNP "will not let the Tories drag Scotland backwards".
The UK goes to the polls on 8 June for the general election, five weeks after local authority elections across Scotland, as well as in England and Wales.
During her visit, Mrs May will visit a business and speak at a campaign rally, introduced by Scottish Conservative leader Ruth Davidson.
Mrs May will discuss the UK government's modern industrial strategy.
At the rally, she is expected to say: "My message to the people of Scotland today is clear: if you vote for me, it will strengthen my hand in the Brexit negotiations.
"It will strengthen the Union, strengthen the economy, and together the UK and Scotland will flourish. Because when Scotland is flourishing, the rest of the United Kingdom is flourishing too."
Campaigning on Friday, Ms Sturgeon said: "The truth is the more Tory MPs Westminster has, the heavier the price Scotland will pay.
"A free hand for the Tories would mean even more cuts, more attacks on low-income families and a hard Brexit.
"The SNP is the only party that can stand up to the Tories, and working with the Scottish parliament SNP MPs will fight these devastating policies."
Scottish Labour is expected to campaign in Edinburgh, while the Lib Dems will be out in Helensburgh and Kirkintilloch.
Meanwhile, Mr Corbyn will urge young potential voters to overcome "apathy and resignation" because it only favours the Tories.
He will highlight figures showing 2.4 million young people are missing from the electoral register.
The Labour leader is expected to say: "The Conservatives are more than happy with this state of affairs.
"Apathy and resignation will secure them seats on election day."
In Leeds, Mr Farron will reiterate his claim that he could replace Mr Corbyn as leader of the official opposition.
He has also said his party is aiming to regain the Scottish seats it lost in 2015.
Theresa May set for Scottish visit in election campaign}